[ Big Loot ] BDAM Coin 2nd Air Drop – Register & Get Up To ₹300 Free PayTM Cash
[ Big Loot ] BDAM Coin 2nd Air Drop – Register & Get Up To ₹300 Free PayTM Cash
Hello Guys , here i am back with one more Air Drop Named BDAM Coin 2nd Air Drop for you Guys.BDAM Foundation is A complete financial ecosystem providing state-of-the-art banking, trading and payment solutions on the global scale. BDAM Launches strategic partnerships with top Crypto project analysis group ICO Pantera and Korean Exchange ChainX as it enters the Korean Market.
---
Register On BDAM Coin Air Drop Get Up To ₹300 Free PayTM Cash
1. First of All Open Given BDAM Google Forms in your Default Browser.
2. Follow 1 to 5 steps like follow their telegram channel and Join and Tweet and Follow on Twitter.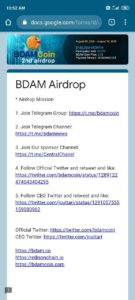 3. After Completing all above 5 steps just move to bottom of Google Form.
4. Enter All asked details like Your Name, Twitter username and Telegram Username.
5. Enter Given BDAM Referral Code to Get Sign Up Bonus. :
@Tomcruse007
6. Copy your ETH Address from Trust Wallet and Paste here and Submit your Form.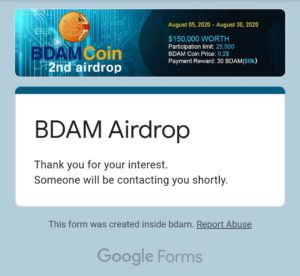 7. You will Get the BDAM Coins at then End of August month or starting of September Month.
8. You can Refer your friends using your referral code and Your Telegram Username is Your BDAM Referral Code.
---
Unique features of BDAM :
1. Blockchain POS (Point of Sales) system implementation.
-Used as a large real user base in online and offline stores and apps.
2. BDAM & BNB(binance) coin based on/off payment gateway implementation.
-Integrate with hundreds of coins and tokens from Binance and use them in all kinds of online and offline payment platforms.
3.Compensation for mining 50% (1 billion) coins in all platform ecosystems of BDAM.
-Financial platform (exchange crypto, fiat, CFD, FX, Lending, Options)
-Game platform (e-sports, gambling(casino, sports book), rpg)
-Social platform (social network, news network, AR, AI, advertising platform, chat platform)
-Life platform (travel, car share, real estate, cloud, gold trading)
---