Jio Fiber Welcome Offer – FREE 30 Days Unlimited Trial | Plans From ₹399
Jio Fiber Welcome Offer – FREE 30 Days Unlimited Trial | Plans From ₹399
Hi Guys, Hope You are Enjoying Our Free Recharge Tricks & Free PayTM cash Tricks. Meanwhile Today in Jio Has Announced "Jio Fiber 30 Days Free Unlimited Trial Offer" For Reliance Jio Fiber User.
This Jio Fiber Welcome Offer Will Bring Revolution in India With Live 4k Streaming In 4K Televisions With 4K Set Top Box. Jio is Giving This Everything Free With Jio Fiber 30 Days Free Trial Offer.
Jio Has Started The Motto 'NAYE INDIA KA NAYA JOSH' & Under This They are Giving Away Free No-condition 30-day Free Trial of 150 Mbps internet, 4K Set Top Box with Free Subscription to 10 OTT apps for all new users
If You Remember correctly Then At the Time Of Reliance Jio SIM launch , Jio Had This Similar Jio Welcome Offer. Now You will Be Able to Grab The Freebies Benefits On Reliance Jio Gigafiber Which was Already Launched In India On Test Basis. This Jio Fiber Free 30 Days Trial Will Be Live From 1st September 2020.
---
JIO Fiber Welcome Offer – Free 30 Days Trial Offer 
JioFiber Home tariff plans will now offer truly unlimited internet
All Home plans to have symmetric speed, that is download speed = upload speed
Tariff plans start from only Rs 399 per month
JioFiber to provide no-condition 30-day Free Trial of 150 Mbps internet, 4K Set Top Box
with subscription to 10 

OTT

 apps for all new users
Mumbai, 31st August 2020: To further reinforce its customer-obsession and celebrate 

NAYE 

INDIA

 KA 

NAYA

 

JOSH

, JioFiber has revamped its tariff plans to empower every Indian home.
These new tariff plans provide extreme affordability during these challenging times,
when dependable internet connectivity has become a necessary norm.
Jio Has Announced Jio Fiber Welcome Offer For Subscribers Who Select Jio Giga Fiber Annual Plan. This Offer Will Be Available For Limited Time. But If You Grab The Jio Fiber Welcome Offer The Jio Will Give You Free Smart Set Top Box & HD LED Tv Or 4K LED Tv Apart From Jio Giga Fiber.
We Have Added Details For Jio Smart Set Top Box.
JIOFIBER New Plans :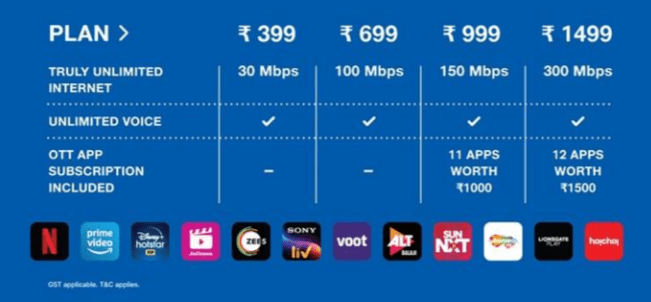 As We Stated Above JioFiber Will Be Available Through Jio Fiber Welcome Offer And Packs Will Be Available On Monthly as Well as Annually. In Annual Package Of JioFiber You Will Get Free 4K HD TV + 4K Set Top Box Free As a Part Of Jio Fiber Welcome Offer.
The Plan Will Be As Low As ₹399 On Monthly And As High as ₹8499.

JIOFIBER Speed :-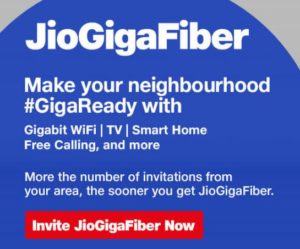 1. Truly Unlimited Internet
2. Symmetric Speed (Upload speed = Download speed)
3. Plans starting at only Rs 399/month
4. Subscription to the top 12 PAID OTT apps at NO EXTRA COST
---
JIOFIBER Set Top Box :- 
This Jio Fiber Welcome Plan, Will Also Have Jio Smart Set Top Box Included With JioFiber.  With The Help Of This Jio Smart Set Top Box , Users Can Make Free HD Video Calling On Any Smartphone , Tablet Or Other Jio Gigafiber Enabled Smart Tvs.
Also This Smart Jio Set Top Box Will Have Gaming Console Like Features & It Will Support HD Gaming Like FIFA19. It Will Comes With In-built Graphics card , So You can Play HD Gaming Like PS4 And Xbox.
Jio First Day First Subscription :- 
This is Unique Concept Announced By Reliance Jio Today. With Jio First Day first Subscription , Users can Watch New Movies On Their Release Day From Their Home.
All cable Channels :- 
With This Jio Fiber Welcome Offer , User Will Get Access To All Cable Channels Free From This Jio GigaFiber.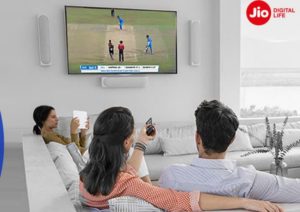 Free Unlimited International Calls :- 
With Jio GigaFiber And Jio Fiber Welcome Offer , User can Make Unlimited HD Video International Calls. Though This Pack Will Start From ₹500 Per Month.
How To Apply For Jio Fiber Welcome Offer :
Jio Fiber Welcome Offer Will Launch Commercially From 5th September Along With Jio GigaFiber Service.
Visit This JioFiber Registration Page & Fill Our Your Details
Or You Have to Visit The Official Reliance Xpress Mini Stores , Jio Store To Claim This Offer.
You Need To Fill Out The Form For This Offer
Also You Need To Purchase Any Jio Fiber Annual Plan To Enroll Into This Jio Fiber Welcome Offer.
Jio Will Send You Freebies Later at Your Home Or You Can Grab Free 4K TV and 4k Set Top Box From Jio Stores.
What Will Be Included In JioFiber 30 Day Free Trail Offer ?
User Will Get :
JIOFIBER NO-CONDITION 30-DAY FREE TRIAL:
1. Try JioFiber for 30-days with:
a. 150 Mbps truly unlimited internet
b. 4K set top box with access to top 10 paid OTT apps AT NO COST
c. Free voice calling
2. If you don't like the service, we will take it back, no questions asked.
3. The 30-day free trial is applicable for all new customers
Important Dates About JioFiber Free Trial Offer 
1. New JioFiber customers activating from 1st September, will get the 30-day Free Trial
2. Since Jio has always believed in rewarding loyalty, its existing JioFiber users will get special benefits as mentioned below:
a. Plans of all existing JioFiber customers will be upgraded to match the benefits of the new tariff plans
b. Any JioFiber customer onboarded between 15th and 31st August will also get the 30-day free trial benefit as a voucher in MyJio
Which 12 OTT Apps Will Be Included With Jio Fiber Plans?
Netflix
Amazon Prime Videos
Disney+Hotstar Premium
JioCinema
Zee5
Sony LIV
Voot & Voot Kids
 ALT Balaji
SUN NXT
Shemaroo
Lionsgate Play
Hoichoi
We Are Adding More Details For Jio Fiber Welcome Offer…